Suburbanization Spreads Through U.S. Southern Forests
Submitted by Nick Price on Fri, 05/14/2010 - 10:53
By Nick Price
New Google maps show the drivers of change that impact southern forests in the United States.
SeeSouthernForests.org, WRI's new website designed to illustrate features and threats to southern U.S. forests, recently released a new Google Earth version of southern forest maps. This new feature allows users to explore WRI's popular southern forest maps in Google Earth to visualize just how rapidly these forests are changing.
Drivers of Change in
U.S.

Southern Forests

In the coming years, southern U.S. forests will be affected by suburbanization, pest and disease outbreaks, surface mining, and other drivers of change that will influence the ability of these forests to continue to provide a variety of ecosystem services. The SeeSouthernForests Google Earth feature includes data from some of the most influential drivers of change, including suburbanization, drought, fire outbreaks, pests and diseases, climate change, and forestry. Using WRI maps in Google Earth, people can see how forests have been impacted by these drivers over time and gain a better understanding of how forests might continue to change in the future.
Suburbanization
According to the U.S. Forest Service, suburbanization will result in more than 12 million acres of forest being cleared or impacted between 1992 and 2020. Using the SeeSouthernForest.org Google Earth feature, users can see historical and projected suburban growth in the South from 1940 through 2030. Growth can be quite dramatic around certain population centers. For instance, Richmond, Virginia has experienced a high rate of suburban growth since the 1970s, which has led to significant forest loss, as shown in the images below.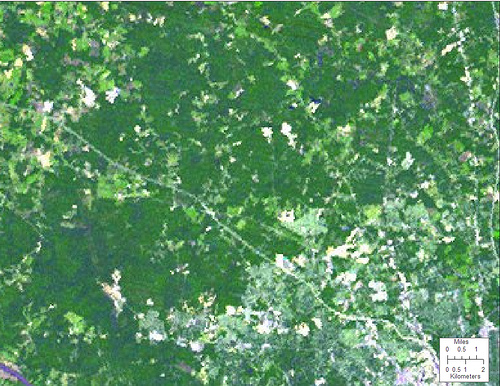 1975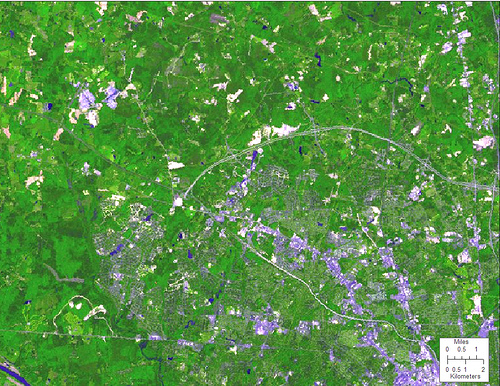 1990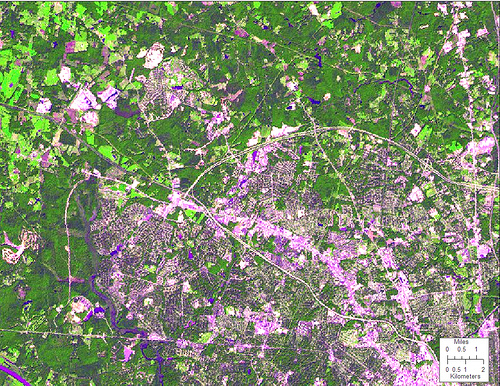 2000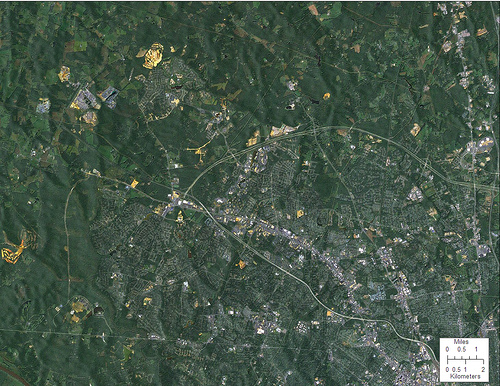 2006
You can also see rapid suburban development around Charlotte and Raleigh, North Carolina; Greenville, South Carolina; and Atlanta, Georgia. Unless there are changes in the pattern of development that now favors low density housing, strip malls, and exurban road construction, the U.S. Forest Service estimates that suburban growth will lead to another 19 million acres of forest loss and impact from 2020 to 2040. That is an area larger than West Virginia.
Agricultural Land Returning to Forest
Some drivers of change can actually promote gains in forest cover, the most significant of which is the reversion of agricultural land to forest. The U.S. Forest Service projects that approximately 10 million acres of southern agricultural land will revert to forest between 1992 and 2020, and an additional 15 million acres to revert to forest between 2020 and 2040. SeeSouthernForests.org lets you map forest gain and loss to see where land is being converted back into forest in addition to where forest cover is being lost, as shown in the images below.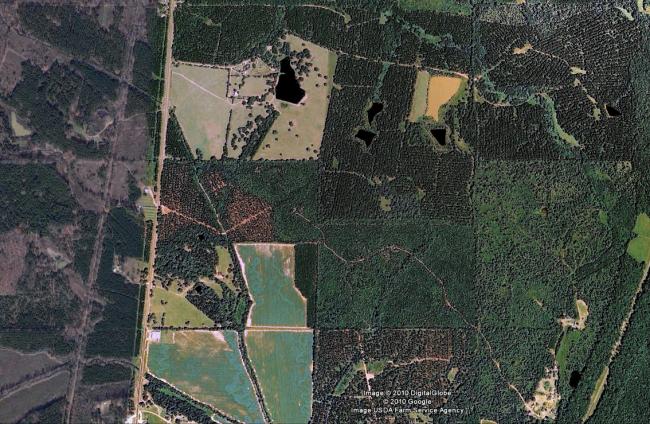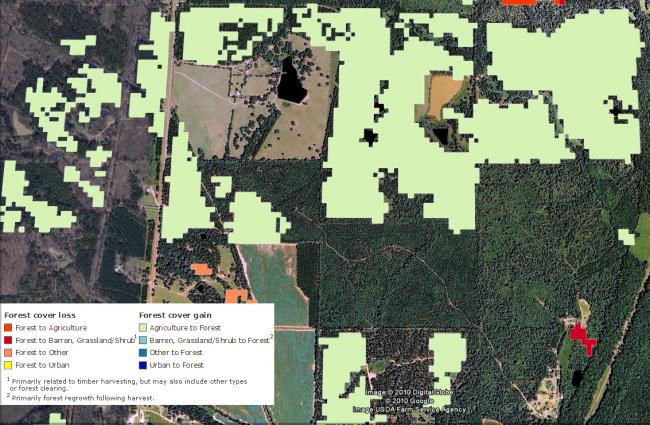 Forest Cover Gain/Loss. In this sample map from Mississippi, the light green color indicates agricultural land that has reverted back to forest.
Although this will counter some forest loss due to suburban encroachment, the U.S. Forest Service projects that the region will still experience a net loss of 2 million acres from 1992-2020, and another net 4 million acre loss from 2020-2040, as shown below.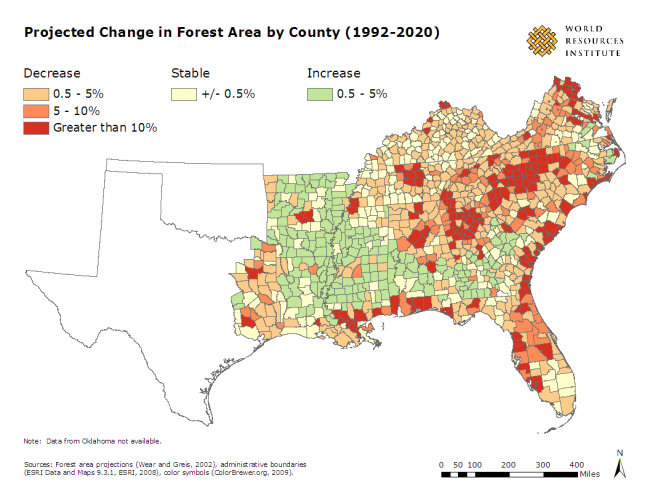 Project Change in Forest Area by County, (1992-2020)
Additional Resources
To download WRI's southern forest maps in Google Earth, visit the SeeSouthernForest.org page in the Featured section of the Google Earth website.
For more on using SeeSouthernForests.org maps in Google Earth, see the video: